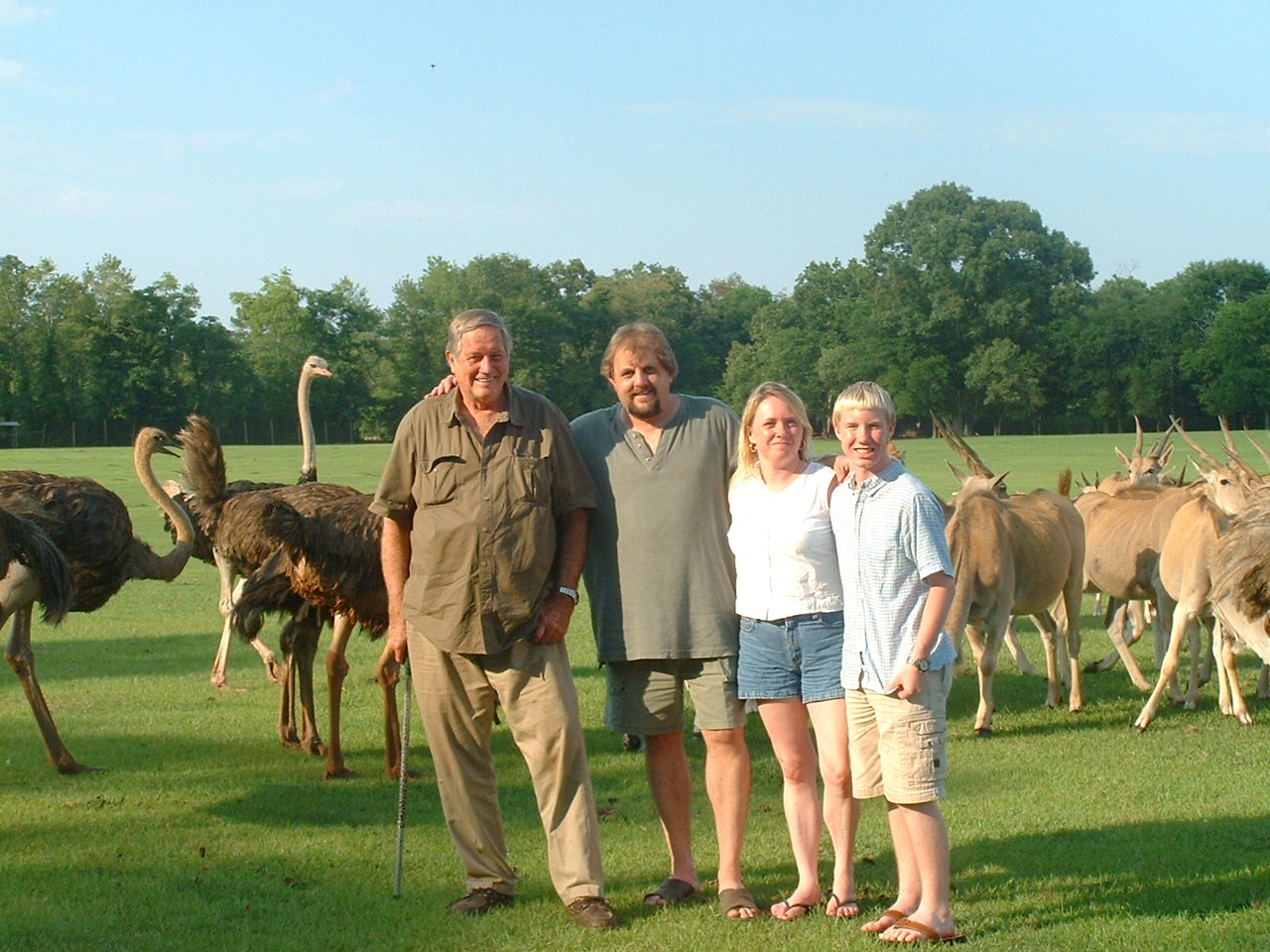 WILD KINGDOM!
(Above)
Karl, Sandi and Justin - spending a summer day in 2006 with Jim Fowler at his private wildlife preserve! Jim Fowler was the co-host and host of Mutual of Omaha's Wild Kingdom for many years. It was an awesome day!
More of Karl's Background
In June of 1984 I graduated from
East
Hardin
High School
, in
Glendale, KY.
On October 1
st
, 1984 I enlisted in the U.S. Air Force and served on active duty for five years and four months, and was honorably discharged in January, 1990. While serving in the Air Force, I was the only enlisted personnel ever to be released from active duty to work for the Eglin AFB, FL Natural Resources Branch for the last six months of my service. I then served eight months in the Air Force inactive reserves, and I remained in north
Florida
while conducting various natural history research and working towards my undergraduate degree.
(Below) Karl with a Southeastern Bat
(Myotis austroriparius), in a Jackson Co., FL cave.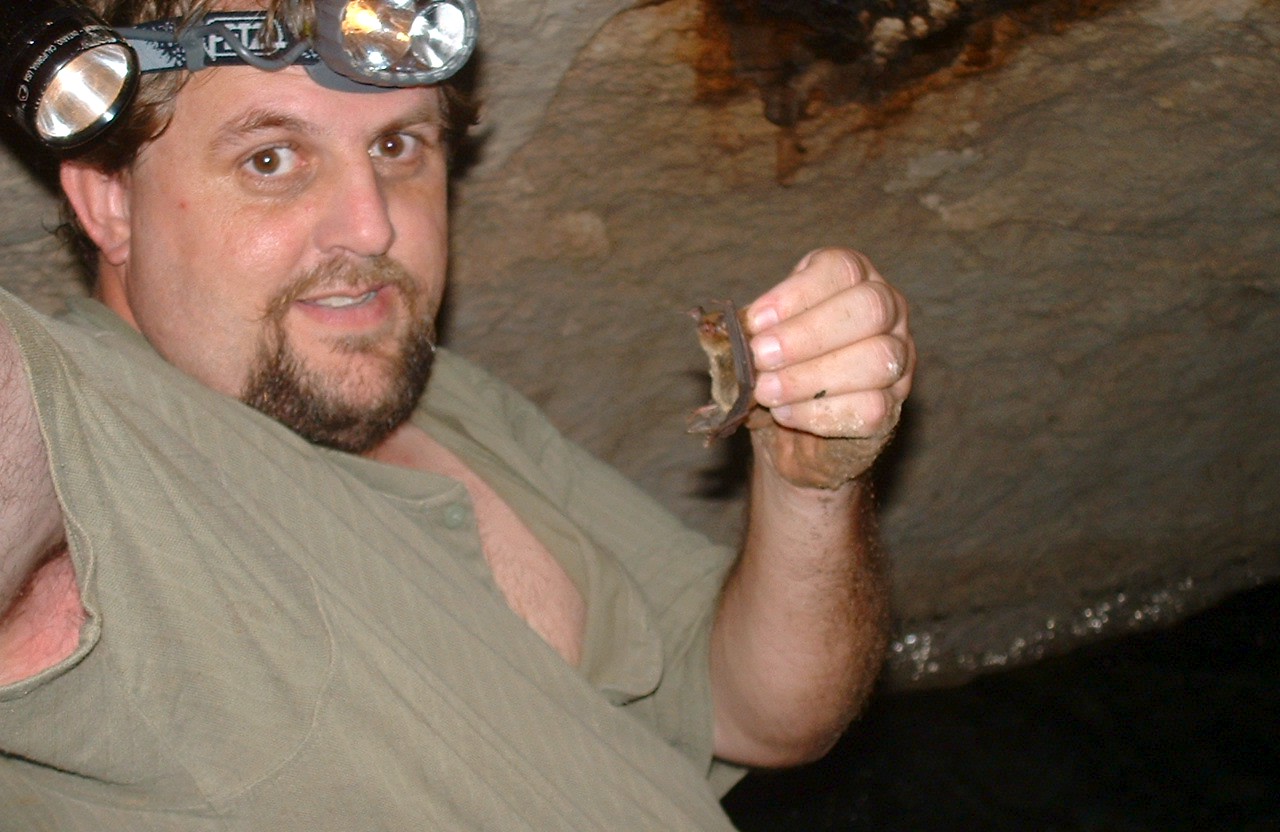 I attended
Santa Fe
Community College
in
Gainesville
,
FL
for two semesters and
Chipola
Junior College
in
Marianna, FL
for one and a half years. I completed my bachelor's degree at the
University
of
Mobile
, in
Mobile, AL
in 1999, obtaining a B.S. degree, with double majors in Natural Sciences and Humanities (Philosophy and religion concentrations). I am currently pursuing a Master's of Science degree in Environmental Science
at
Columbus State University, GA
, and have completed 15 of 36 hours (9 class hours, 6 hours thesis field research on Florida Bats in Bridges).
(Below) Karl capturing a
Gulf Salt Marsh snake.
Mobile Co., AL. 1997.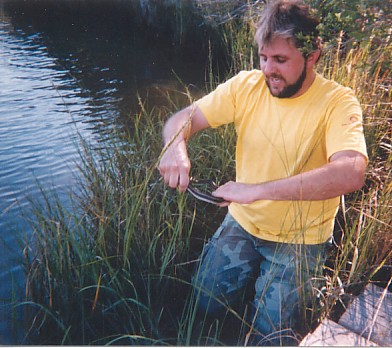 In my career, I've conducted or assisted in around 40 ecological research projects, for nearly 20 private, State and Federal organizations. I have also written or published over 50 natural history, scientific articles or reports. Additionally, I have given about 400 natural history presentations and lectures and appeared on or hosted eleven television programs about wildlife and the environment.
In 2009 and 2010 I am working as an AmeriCorps Member in Florida State Parks, in the Pensacola area. Through AmeriCorps I am conducting extensive environmental education programs, community service projects, ecological research and inventories, and resource management projects.
Simply, I am extremely dedicated and determined to make a positive difference concerning the incredible and awesome natural history of the northern
Gulf
Coast, while helping children, adults and the region too
!
(Below) Karl and his little buddy -
Tripod (a Diamondback terrapin).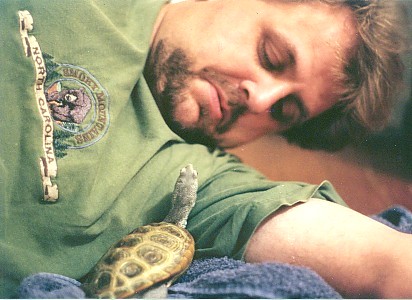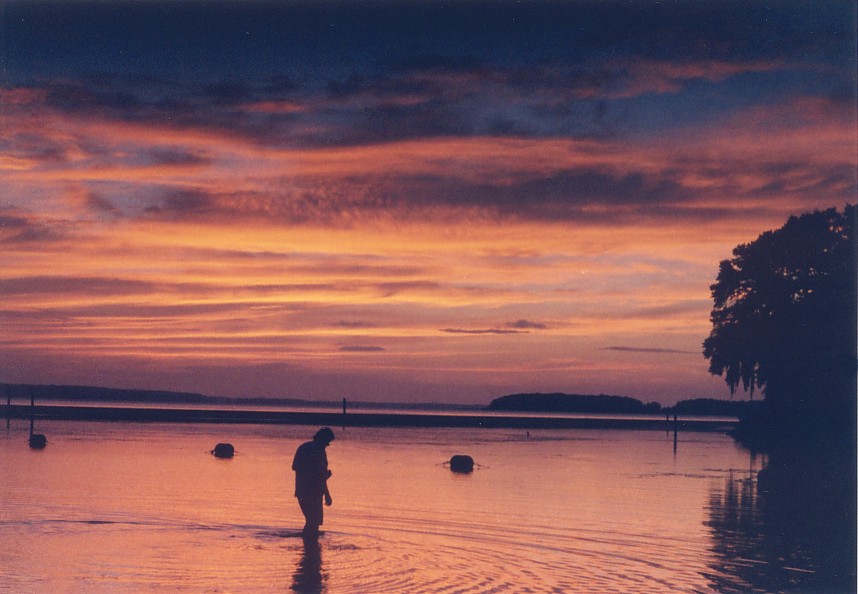 (Above) Karl searching for turtles in Lake Seminole (FL & GA)