The foggy Ouachita River twists through the Mountains.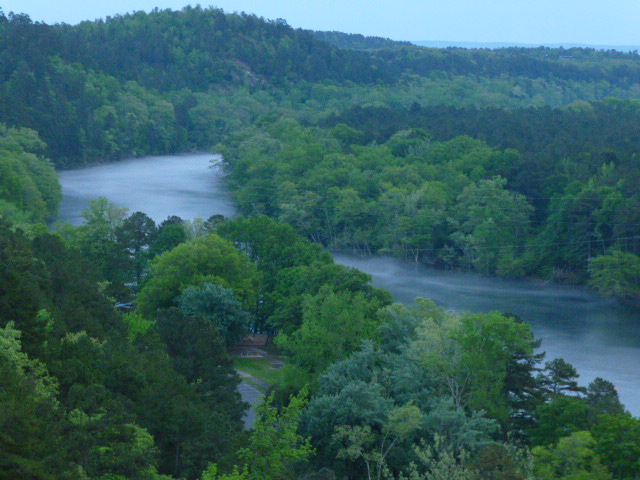 Water is one of the two major driving forces, along with plate-tectonics, behind the formation and reduction of the Ouachita ecoregion over millions of years. The materials that comprise the various rocks that make up the Ouachita Mountains were formed out of deposits on the bottom of ancient seas over millennia. The forces that have slowly worn away the Ouachita region are a result of water action through erosion either in the form of precipitation or streams and rivers. Water is both the life and death of the Ouachita region.
The two major river systems that have impacted the Ouachita region over time are the Arkansas and Ouachita rivers. Over thousands of years the Arkansas River has worn away the Arkansas Valley that was once part of the Ouachita Mountains. The Ouachita River and its tributaries is the primary network that drains the Ouachita Mountains today and continues to wear away at the land. The Ouachitas were once 5,000 to 10,000 feet tall and water has continued to reduce them over time.
Water is also the life-blood of all plants and animals that now live in the Ouachita region and plays a critical role in the life history and reproduction of all species. Without life-giving water, no biological life could exist. The lakes, rivers and aquifers of the Ouachita region also provide water for human use, consumption and recreation; along with agricultural and industrial use. The protection and wise-use of water resources in the Ouachita region are vital to maintain human and all life that call this incredible region home.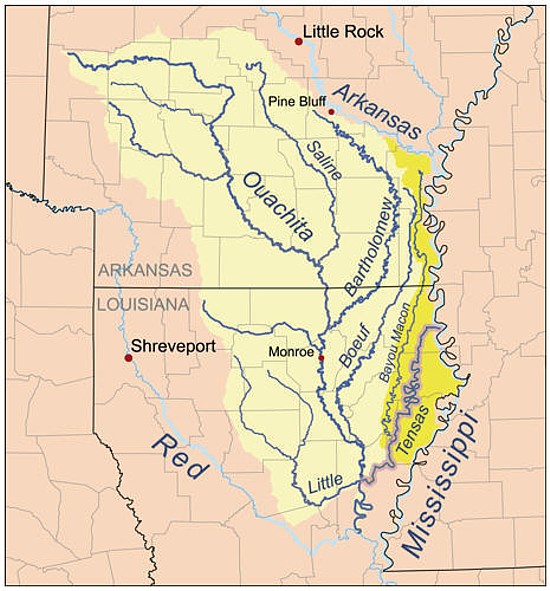 Map of the Ouachita River drainage basin.
The Ouachita River is 605 miles long and its head waters are in the Ouachita Mountains, around Mena, AR near the Oklahoma state line. It flows southeasterly through Arkansas, into Louisiana before joining the Tensas River, near Jonesville, LA to form the Black River. The River is named for the Ouachita Indian tribe, who once lived along it.
(Below) Map of the Average Annual Precipitation in Arkansas. Notice the highest rainfall amounts fall in the southern Ouachita Mountain region, this rivals the high rainfall amounts of the northern Gulf Coast. The higher rainfall amounts of the Ouachita Mountains contribute to the lush green vegetation and biodiversity of the region.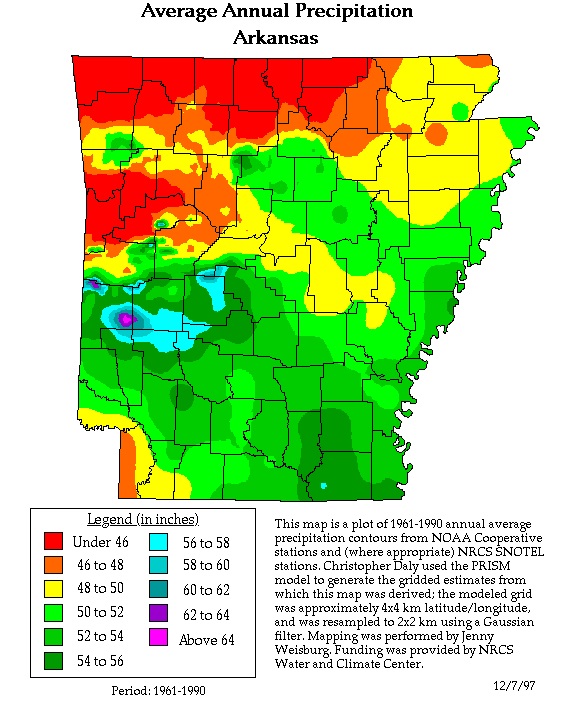 Map of Lake Ouachita, Arkansas.
A spring time view of Lake Ouachita,
atop Hickory Nut Mt.
Map of the Aquifers of Arkansas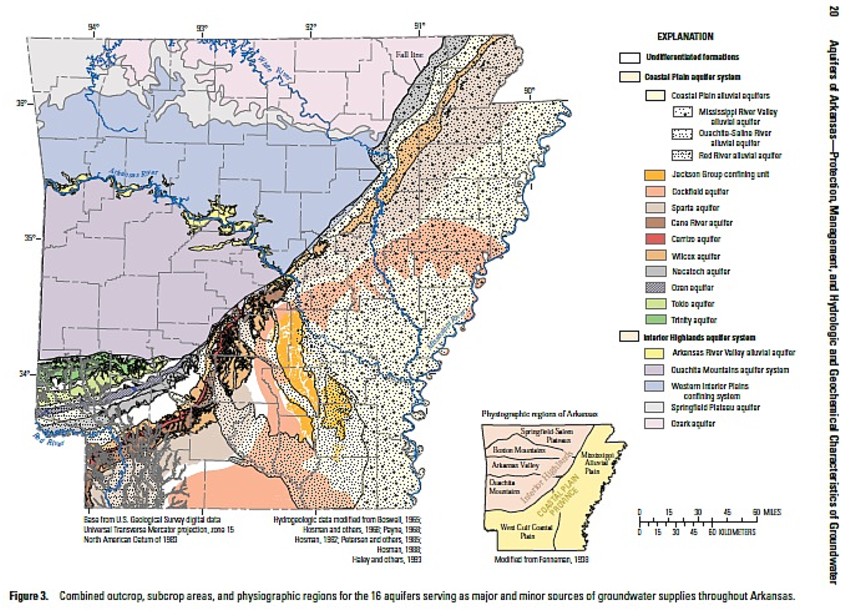 Source: USGS Aquifers of Arkansas...
For more information about the Aquifers of Arkansas visit these links:
Arkansas Geological Survey: Groundwater & Aquifers of Arkansas
USGS: Aquifers of Arkansas... (A very informative report)